SUSTAINABILITY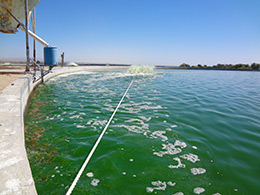 A recent United Nations study predicts that unless something changes, nearly all commercial fisheries will be producing less than 10% of their onetime potential by the middle of this century. Already, almost 30% of the world's fish stocks fall into that category. The US imports about 86 percent of its seafood, only half of which is wild caught.
The global demand for farm-raised fish is expected to double by 2050.
Something needs to be done, and Aqua Farming Tech is doing it. Aqua Farming Tech has been at the forefront of developing and implementing the most advanced, sustainable, ecologically sound methods of producing clean, quality seafood just east of Palm Springs in the heart of the Coachella Valley, California.
Sustainable Features of the Farm Include:
Most of the electricity used is generated by Solar.
40% of the nutrient dense fish feed comes from algae and moringa (both organically raised by the Company).
The water used to raise the fish is recirculated through ponds that contain plants which clean the water for re-use; the nutrient rich fish pond water is also used to irrigate the crop (moringa) which is used for the fish feed.
Hatchery operations are conducted by the Company on the farm which produces endless supply of fish.