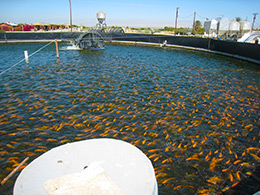 Aqua Farming Tech is a wholly-owned subsidiary of New Global Energy, Inc., a publicly traded company, call symbol NGEY (www.newglobalenergy.net).
Aqua Farming Tech is Southern California's leader in sustainably produced, premium quality tilapia, and moringa. With an established premium brand, excellent distribution and two decades of knowhow, Aqua Farming Tech is delivers live and "day fresh" tilapia to the ever increasing Los Angeles - San Francisco – San Diego market.
Aquaculture is the fastest growing segment within the global agribusiness category, steadily growing at a compound annual growth rate of 9%.
The US imports about 86 percent of its seafood, only half of which is wild caught.